We may be into the new year, but the past year of 2017 wasn't all bad when it came to the nation's renewable energy. The UK can bask in the glory of the greenest year for electricity, with the government plan to continue and improve over 2018.
According to National Grid figures, the result is thanks to rising solar and wind generation and a shift away from coal. This in turn has seen 13 new record moments of output for solar, wind and hydro power. This meant 2017 saw record low levels of carbon pollution from electricity – happy green new year, you could say!
Here are the full 13 records broken down:
1) First 24-hour period without coal generation since the Industrial Revolution in the late 1700s – April 21st.
2) Longest period without coal generation (40 hours 35 minutes) – October 28-29th.
3) Greenest summer ever, with almost 52 percent of electricity generation from low carbon sources – June 21st to September 22nd.
4) The lowest amount of carbon produced by electricity production at any one moment – 73g (2.5oz) of carbon dioxide per kilowatt hour – October 2nd.
5) The largest amount of electricity produced from renewable sources at any one moment (19.2 gigawatts) – March 21st.
6) First time that wind, nuclear and solar were all generating more than both gas and coal combined – June 7th.
7) Most electricity production from solar power at any one moment (8.9 gigawatts), a quarter of Britain's electricity supply – May 26th.
8) Highest percentage of solar produced relative to national demand (26.8 percent) – July 2.
9) Most wind power produced in a day – December 7th.
10) Most offshore wind generation at any one moment (4.3 gigawatts) – October 1st.
11) Most electricity production from all wind generation at any one moment (12.4 gigawatts) – December 6th.
12) Most electricity production from hydro power at any one moment (1.4 gigawatts) – February 27th.
13) Record low strike price – the guaranteed price that will be paid for power generated by low carbon technology – at the second auction for subsidies of £57.50 per megawatt hour – September 11th.
The last calendar year's results mark a new era of grid operation, where significant volumes of renewable energy signify an exciting challenge for the public to ensure the supply and demand is matched efficiently.
In addition, wind farms situated in Britain produced more electricity than coal plants, which resulted in the cost of offshore wind power fall below the price of nuclear for the first time, figures showed.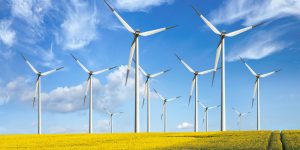 With these recent results in the bag, 2018 is expected to be even cleaner and greener. Are we finally facing up to the challenge of global warming and embracing a better future for our planet and all those living on it?
Perhaps you're a small business owner who is looking to benefit from the current situation, or perhaps you would like to find out more information regarding it?
Here at Shrink Our Bills, we can help you do just that! We can assist you on how to save your money on high bills, pointing you in the right direction of a cheaper outcome.
If we could show you a simple online form to complete that would help you to shrink your bills in the U.K – would you be interested?
Call us on our direct lines either 07957811088 or 07971675120. We help both business and domestic customers by looking into any errors, duplication, costs, renewal offers and much more.
Written by Mark Tuxford – Universal Web Design
If you're too busy to perhaps write your own blogs on your chosen topic, then my wide range of expert writing can cover any types of business industries as well as sport and lifestyle.
You can contact me at Universal Web Design via my email – mark.tuxford@universalwebdesign.co.uk